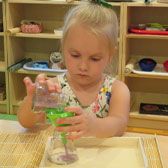 Montessori A Great Beginning

Your child deserves a great beginning!
CONTACT US

31 Cherrywood Drive
East Northport, NY 11731
631-368-0672
isulima@montessori-agb.com

School Hours:
Monday thru Friday
9:00AM to 3:00PM

Extended hours are available.

We follow the Commack School District calendar.

We provide healthy, nutritious hot lunches and morning and afternoon snacks.

Give us a call and schedule a tour of the facility.















































Our Montessori structured environment, from which children absorb information like 'sponges', is divided into five major
areas:

1. Practical Life - Activities which allow children to imitate everyday tasks being performed by adults. The child perfects
his coordination, lengthens his span of concentration, learns to pay attention to details, and learns good working habits.

2. Sensorial - Activities refine the child's senses through the repeated manipulation of specifically designed materials. While the child is refining his senses, he is also developing his concentration, his sense of order, and ultimately his intellect.

3. Mathematics - Tasks develop a strong foundation in math. Plus they give opportunities to explore math in a concrete way. Through hands-on materials, abstract math concepts become easier to comprehend.

4. Language Art - The language tasks include oral language activities that develop listening skills, comprehension and vocabulary. They enhance phonics awareness, pre-reading work, writing and reading activities. Materials are used to refine pencil control and help to improve writing skills.

5. Culture and Science - Cultural materials allow children to develop an awareness and appreciation of the world they live in. Studies include: geography, history, botany and zoology. Children in a Montessori setting act like young scientists; they experience their environment and develop their own theories of how the world works.